46 Fun Outdoor Activities for Kids
It's much easier to burn off steam when we spend more time outdoors than in. Kids love outdoor play in the fresh air – and there's no end to outdoor crafting activities that they can get involved with! Take a look at the following list of ideas to get you started.
1. Here's a fun activity kids can enjoy down at the beach with a single pack of acrylic paint pens » that is sure to keep little hands busy for hours. Follow our blog post, How to Make Story Stones, to find out how you can use this technique to make a creative story telling game. Great for passing the time on a lazy beach day!
2. While you're at it, you could paint up these fab stones by following the blog post How to Make Ladybird Pet Rocks. A great way to remind you of your seaside trip!
3. Make some fun dinosaur fossils by using all of the dinosaurs stashed in the toy box! Follow the tutorial by Rainy Day Mum to create your own, and hide them around the garden to create your own exciting archaeological expedition!
4. Make sure you're summer ready with this Duck Tape beach bag » complete with gold flamingo, there are lots of different tapes to choose from to make your bag one of a kind.
5. Follow How to Print Using Self Adhesive Foam on the Hobbycraft blog to see this super easy stamp printing craft for kids and adults to do together. Once you've made the stamps you can use them again and again on a variety of papers and fabrics.
6. This stenciled bug tote bag » is a great make for doing with the kids. It can can be used as a book or school bag as well as a great carrier for all their beach gear too.
7. Set up camp anywhere with this vibrant Stars and Chevron Play Tent », ideal for protecting your little ones in the sun. Plus it comes with a handy  carry case, so it's perfect for out and about!
8. Some lovely ideas over at Crafts by Amanda for Sandcasting on the beach with Plaster of Paris – a fun activity to have up your sleeve for when the kids get tired of the sea.
9. Making a sand volcano is tons of fun for kids! You can easily set this Sand Volcano by Rosie and Jewel » up at the beach or right in your sand pit.
10. Follow How to Make Cardboard Tube Binoculars to find out how you can recycle and transform cardboard tubes into the ultimate adventuring tool! What things can you see through your binoculars in the garden?
11. Create your own dream jars and explore hidden corners of the garden! Find out how by following the How to Make Dream Jars blog post on the Hobbycraft blog. Fill with an LED tealight to light the way – who knows what magical creatures you might find?!
12. Have fun in the sun with your little ones with this fantastic ready-to-decorate, Teepee Play Tent » The kit contains a plain canvas teepee, canvas rope and five wooden poles for you and the kids to build your very own quirky wigwam.
13. For teepee inspiration try this fab idea by Briony over at Any Way To Stay At Home » – great for messy play, it's the perfect outdoor activity to protect your walls inside, and get out in the sun at the same time!
14. This Outdoor Bug Game by Laura and Tia at Little Button Diaries » is very simple to make, requires very few materials and is two games in one! You can either lay twigs out on the floor for a buggy version of naughts and crosses, or place the bug box on the lawn to see who can toss the most bugs in the hole.
15. The blog post How to Make an Owl Pinata » will show you how to make this excellent party game. A pinata is fab for adding entertainment to children's parties, whether you want to make your mache shape into a clown, animal or a rocket, it's so simple to make your own.
16. Bird feeders are a great way to teach kids about wildlife and how we can make positive steps towards welcoming nature back into our gardens. This project by Tonya Staab shows how a bird feeder can easily be constructed out of lollipop sticks!
17. This DIY Water Fight Kit idea by Inner Child Fun » is a fun way to surprise family and friends with a little treat in the heat! Included is a a free printable label for easy gift-giving too. You kids will love dunking the sponge bombs into buckets of water to throw to each other for games of catch, and the sponges can be used over and over again with minimal amounts of water — perfect for the resource-conscious!
18. All you need to make these super Winning Medals by Aisha Green » is jam jar lids, glitter and cardboard. Best of all, make them in the garden and you'll not be picking glitter from the carpet for weeks!
19. Create your very own skipping rope by using a finger knitting technique explained simply within our blog post, How to Finger Knit a Skipping Rope! A crafty, fun, and healthy way to spend a day.
20. Be a bubble-wizard with this fabulous Wand A Bubble wand » – Simply fill up the bottle, dip in the wand, pull out and wave it about! Great fun for the whole family, get stuck into bubble-blowing and make the most out of outdoor activities!
21. A great idea from Katie SG at Gifts of Curiosity – grab a small plastic pool that you can fill up with water and mix it up a bit with washable paint » to make these awesome rainbow bubbles. Bound to be a huge hit with the kids!
22. Get their hands dirty with this Sand and Water Play Table »! Create mini sand castles and shapes in your own back garden with this exciting table set, designed to perfectly capture the fun of the beach.

23. As it's not always rainbows and sunshine, how about decorating your very own umbrella using fabric paints? Follow the How to Make a Painted Umbrella the Hobbycraft blog to find out how to make your own.
24. Splash it scribble it splodge it and dribble it! This Kids 3-in-1 Activity Easel » is perfect for your budding little artist –kids will love this place to play, and so will you, because hey; clean up is easier outside.
25. Feeling nostalgic? Learn to make your own Friendship Bracelets » out of embroidery thread. Friendship bracelets are like THE best bezzie declaration ever! Go old school with a stripes bracelet,  or get in the now with a chevron design.
26. The Kids' Mosaic Stone Kit » is a fab way to make a decorative 20 cm stepping stone. Containing everything you need to craft your slab – perfect to make a keepsake of the summer.
27. This is a the perfect craft to make with little ones. Create a simple insect mobile made from painted cardboard tubes, pipe cleaners and googly eyes by following How to Make an Insect Mobile on the Hobbycraft blog ». Hang it from an embroidery hoop or some dowel and let the little creatures buzz happily about.
28. From setting up hop scotch to creating sensational street art, colourful Pavement Chalk » is perfect for summer holiday activities! Once finished, simply wash away with water and start again.
29. These Cardboard Playhouses » are great for building and encouraging imaginative play. Your little artists can have lots of fun colouring in the illustrations included on the outer walls, and then have make believe fun once completed!
30. Your little ones can make magic in their own garden this summer by creating their own fairy garden. Follow How to Make a Fairy Garden on the Hobbycraft blog for a guide of how to make the above!
31. Children always love to help out in the garden, so this Seed Box and Planner project » is perfect to get them involved with planting seeds and enjoying the produce and flowers as they grow.
32. How cute is this Turtle Herb Planter by Reading Confetti? The outside is painted in green acrylic paint, with pom poms for the legs and head, and finished with googly eyes.
33. Mrs. Pot by Little Button Diaries » is easy to make, takes very little time, and is the perfect craft to do with little ones. You can be inventive with her hair – from cress and sprouts to flowers or lettuces.  She's a great way to introduce simple gardening to children and makes a cute addition to a nice sunny kitchen window.
34. Go on a journey with naturalist Nick Baker to discover the secret life of one of this country"s best loved insects. This Lady Bird World kit » is specially designed forages five to ten and explains all kinds of fun and fascinating facts about ladybirds: where to find them, how to study them and how to safely keep them as pets.
35. This Leaf Rubbing idea » uses leaves found around you garden to make pretty pictures. Place the leaves under a sheet of coloured A3 paper and gently rub wax crayons over each leaf until you can see the impression come through.
36. This nature obstacle course idea by Under the Sycamore » is perfect for those looking for something a bit more adventurous to do with their kids. Just dirt, mud and competition. Great for getting them energised and healthy.
37. This fab FREE Nature Hunt Bingo printable by Bitz N' Giggles » will get your family out and about, exploring, identifying, appreciating and loving all that nature has to offer!
38. With Summer in full swing, there's no time like now to get outside whenever you can and enjoy nature! Follow How to Make Clay Nature Prints » for a simple crafty passtime; pick up a variety of your favourite flowers, leaves and branches to create some fun clay impressions.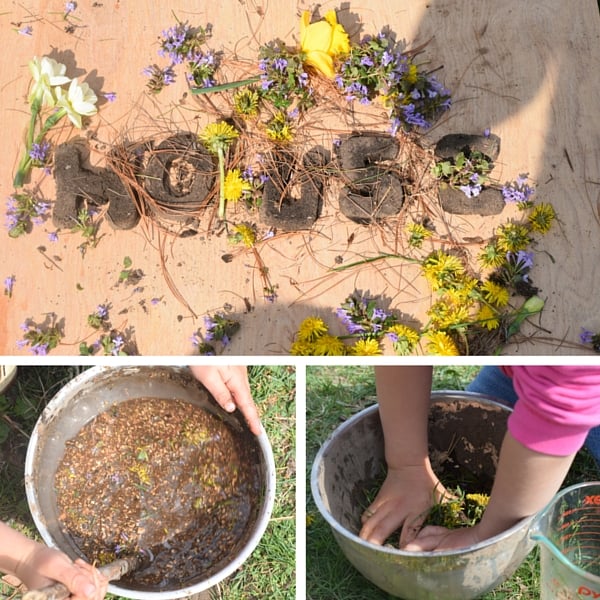 39. This sensory and play-based Mud Alphabet activity » by Nicolette from Wilder Child is fun to experiment with for your little one to help them learn their ABCs.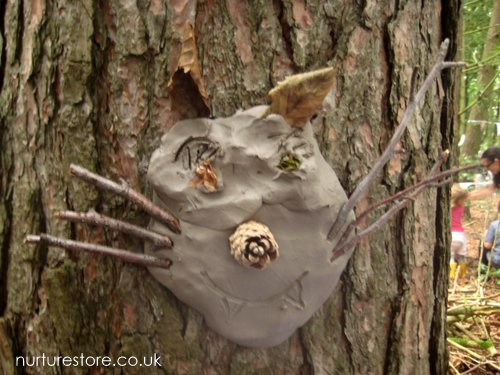 40. Here's a fantastic outdoor art idea from The Nurture Store » that makes great use of loose parts found in a forest: clay faces on tree trunks!
41. Get the kids engaged with nature, be creative and develop their motor skills and this All Natural Leaf Threading activity by The Mud Kitchen » that ticks all the boxes!
42. For a real conversation-starter with your kids around weaving (what's a weft and what's a warp, after all?) Try this amazing Weaving with Weeds » By using just the branches of two trees to create a loom, and sticks and greenery you can have fun creating this amazing work of art together.
43. We are all encouraged to work out our environmental footprint, but have you ever considered your impact on daisies? Luckily they are tough little flowers that seem to withstand people treading on them. These Daisy Footprints » are a nice maths activity is to find out how many daisies you can stand on, with one foot.
44. Make simple paint brushes from nature and see what painty patterns you can create. These Nature Paint Brushes by Messy Little Monster » are all about the process – get outside, go on a nature walk, collect lots of interesting pieces of nature and then get painting!
45. Get out in the garden classroom today, enjoying some outdoor learning with this Colour Matching game from Nurture Store » It's very easy set up and lets you explore lots of different natural materials for some sensory learning.
46. Collect those garden critters with this Backyard Safari Critter Shack » You'll be able to collect live specimens like frogs, fish, lizards, crawfish, snakes and bugs, depending on where you live, and observe them clearly in this water-tight container.
Check out the Hobbycraft Kids Outdoor Fun Pinterest board for loads more kids activity ideas!
Shop the project
Shop online to order everything you need to complete this project.