Meet the Maker: Ceramicist Alice Walton
Alice Walton is a ceramicist and technical demonstrator. "I really enjoy working with clay in particular" says Alice of her craft. "Mainly because it's a really tactile material and actually you can do so much with it. There's infinite amount of glazes  that you can create. Infinite colours that you can achieve and there's so many different variables in firing to what you do before, you put it into the kiln to what you do after."
I feel that subtle colour is really important in my work and the cotton reel collections has made me realise this
In her own words, Alice's studio in Brighton is "A small secluded haven hidden on the top of a hill." – The perfect idly for any artisan! Alice studied in Brighton on a course called 'Wood, Metal, Ceramics and Plastics'. This course taught her the importance of quality within the handmade object. In 2010 she gained a coveted First Class Honours Degree, specialising in ceramics.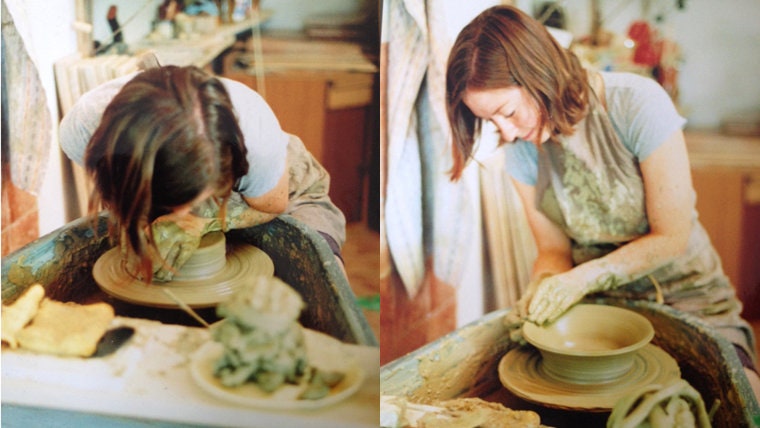 Since graduation Alice has taken part in many exhibitions around the UK, including being chosen as a representative for UK Young Artists. Alice has also taken part in a residency at the prestigious Victoria & Albert Museum in London in which she began exploring new ideas and designs. This particular exploration inspired her 'Trophy' pieces.
We popped over to Alice's Brighton studio to catch up on all things ceramic.
Ceramicist Alice Walton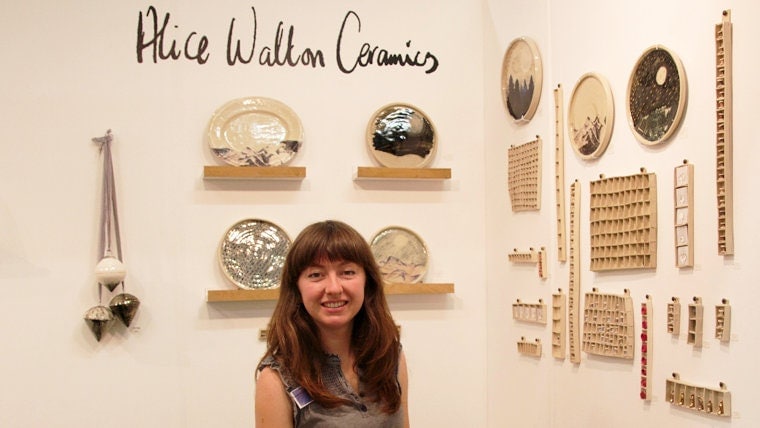 Tell us about your ceramic work. How did it start?
I make ceramic decorative wall pieces inspired by collecting. I started making ceramics when I attended Wimbledon School of Art. After carrying out my Foundation in Art and Design I moved to Brighton to attend a course called Wood, Metal, Ceramics and Plastics. I specalised in Ceramics and so moved into the Ceramics studio that I am in now.
What do you love about working with clay?
I discovered that I loved the material as soon as I realised that I was able to express myself directly through the touch of the clay.
How do you come up with a ceramic design?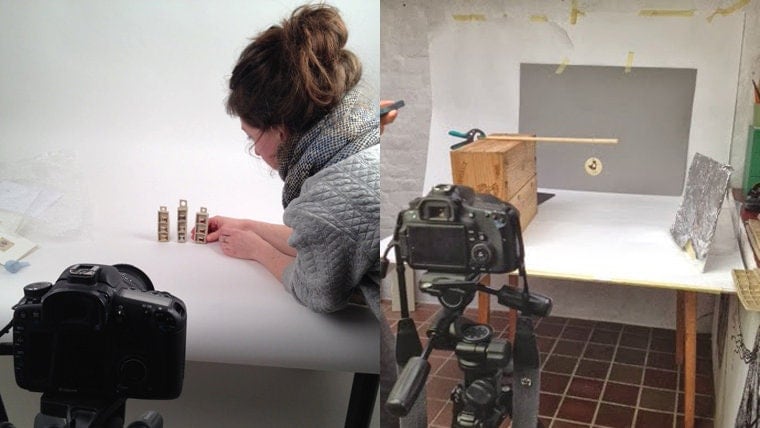 Before I begin making I tend to draw and go on photographing trips to find inspiration. Back in the studio I collage with images and photographs. This is an ongoing process that I continue even whilst making.
What's your biggest craft disaster?
I am quite a messy worker in my studio and a couple of times now have sat on my unfired work because I have left it on my chair!
Tell us a bit about your other crafting passions.
I like sewing and doing handy things around the house, fixing things and decorating. I am currently doing up a table in my house. The course I studied at University and my old job as a prop maker gave me lots of skills with different materials.
How do you decide what to work on next?
I have recently carried out a Ceramics Residency on an Island next to Denmark. My time on Bornholm allowed my to focus entirely on my work and allowed me to begin creating new work. This was a really exciting time to further develop my ideas.
What is the best piece of advice you've ever been given?
Don't give up. Keep making, keep promoting, keep going.
Give us a tour of your Brighton studio.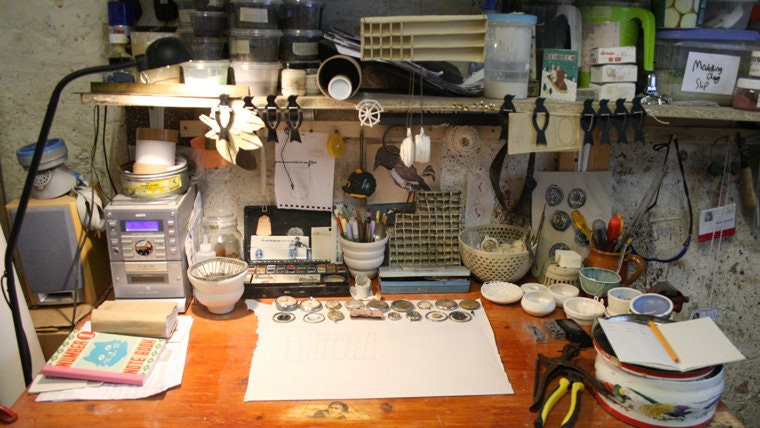 You enter through a black garage door and walk further into a small walled court yard. Opening a blue front door you go through into a dusty wood work shop. Stepping up a small wooded step you come into my room. A sink on your right a work table in front of you, a large floor standing marroon kiln on your left. The natural light comes from a frosted glass window at the top of white double doors just past the sink.
Don't give up. Keep making, keep promoting, keep going
Above my desk are collaged inspirational pictures and then above that are shelves which run the width of the room. Labeled raw materials sit on the shelves ready to be mixed into glazes. If it is tidy the shelves are full. If messy the floor becomes scattered with orders, packaging and papers.
What's always in your artists stash? What tool couldn't you work without?
I have a wooden modelling tool which is pretty worn out. I find it is just the right shape for hand building, trimming and mould making. Simple but very versatile.
Who inspires you?
Edmund de Waal, Maria Kristofersson, Barbro Aberg, Peter Voulkos, Phoebe Cummings…
What's the most exciting piece you've been asked to make?
I think the most exciting thing I have been asked to make is the most open free thing. Again, this summer being asked to make what ever I like while I was on my residency. This is when creativity happens and that leads to such excitement.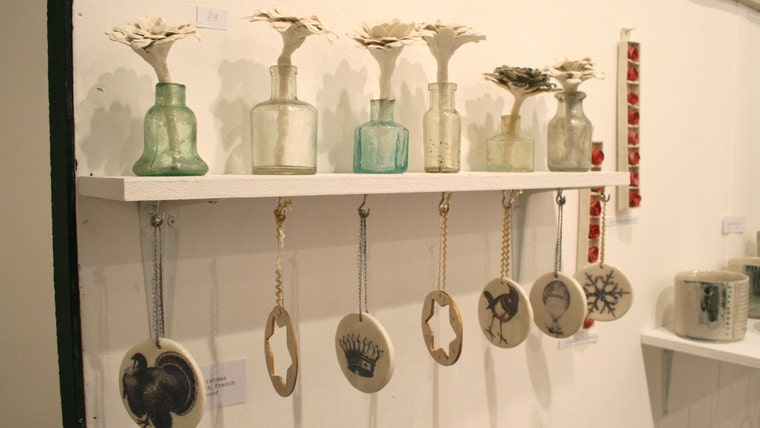 And for the future? What's next?
I would like to carry out another residency so I can continue my initial experimentation from this summer. I feel that the ideas I have at the moment have potential for new routes with my business. I am interested to see a new direction and market towards the hand made one off item which will in turn give me more drive and interest.
Find out more about Alice and her work over at Alice Walton Ceramics or on her blog.