20 Easy Kids Crafts for This Summer
Get those creative juices flowing this holiday with tons of easy kids crafts for this summer – there's no excuse when it's this simple!
Cupcake Jellies
1. If you always have a cupcake case or two in your house, this Cupcake Case Jellyfish by Easy Peasy and Fun » – is the perfect easy craft! Just add tissue paper streamers and sticky tape.
Paper Cone Giraffes
2. This family of Paper Cone Giraffes by Krokotak » make great use of simple rolled paper. I love them for their use of general craft bits which can be easily found around your home – great for when the weather (and time!) is not on your side.
Robot Cardboard Tube Craft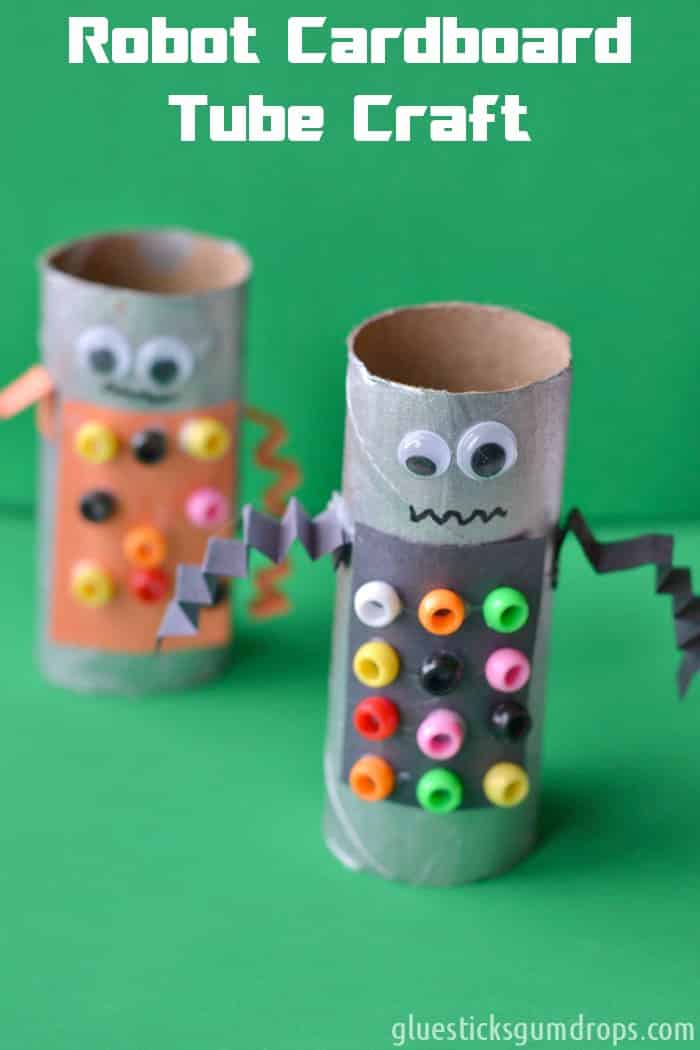 3. Who doesn't love a cheap and simple toilet roll craft? These Cardboard Tube Robot by Gluesticks and Gumdrops » are super easy to do and pretty cute! Just add paint, beads and of course, googly eyes.
4. If your home is anything like ours, Minions are still a popular favourite with the younger children. Minions are so adorable and they are the perfect for this craft. The body shape and expressions of these Minion Pebbles by Mum in the Mad Mouse » make them a great craft to do with kids.
Egg Carton Ladybirds
5. These Egg Carton Ladybirds by One Little Project » are really simple, and ended up looking super cute! They are usually really easy, and because you are sticking to only two colours, they almost always turn out looking fantastic! If you have young children, this project definitely requires some grown up help, but it's lots of fun and very easy to get it all put together.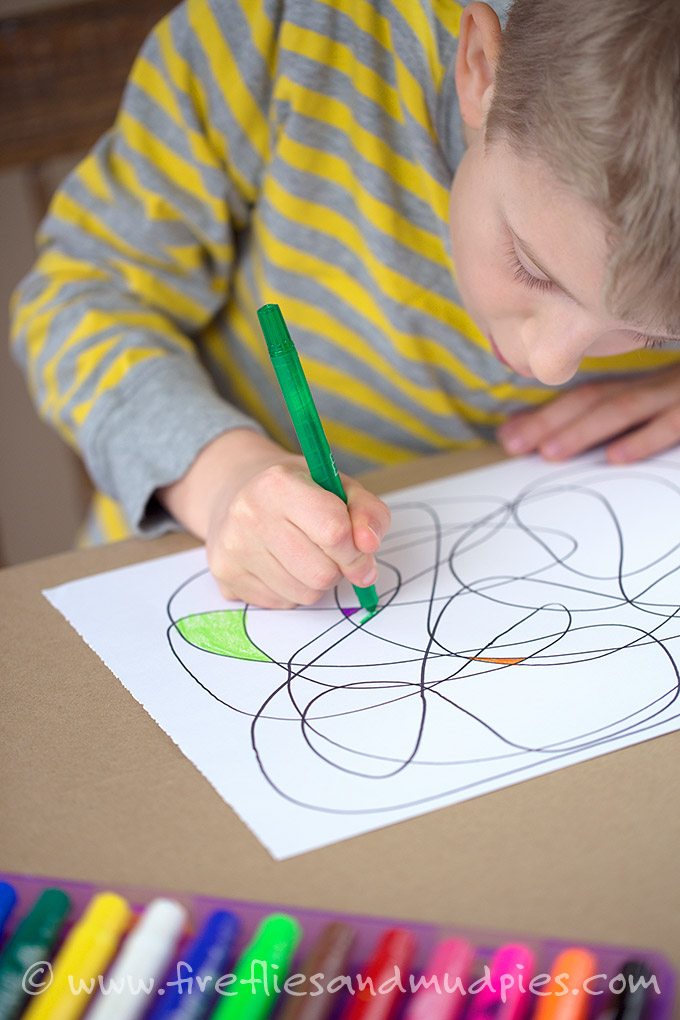 6. Whether your family is traveling or enjoying a relaxing vacation at home for spring break, you are bound to hear two dreaded words: I'm bored. In anticipation of this, here's a favorite childhood boredom buster, Scribble Art by Fireflies and Mud Pies »
Duck Finger Puppets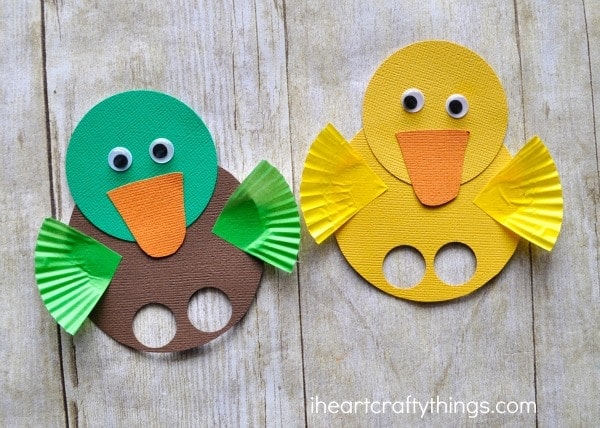 7. How adorable are these duck finger puppets? One sure activity most families do over the summer is visiting local ponds and feeding the ducks. For these Duck Finger Puppets by I Heart Crafty Things » all you need is some paper plates, felt and googly eyes. Then just add imagination.
Mini Paper Kites
8. I am all about these Mini Paper Kites by One Creative Mommy » – They're quick and easy enough for your youngest crafters. Depending on age, the kids can make these kites as simple or as fancy as they'd like. Get ready for a fun and easy boredom buster!
Spoon Flowers
9. I love these Spoon Flowers by Crafty Morning » – They would be great for kids to make as a summer craft or for a birthday gift! They can set it on their desk at work as a keepsake.
Paper Plate Peacock
10. Kids learning about different animals? These super easy Paper Plate Peacocks by Clare's Little Tots » – Are a great activity to teach them about one of the most beautiful birds in the animal kingdom.
Balloon Cup Shooters
11. Are you looking for a fun game to play that will keep the kids busy? These Balloon Cup Shooters by Happy Go Lucky » – are awesome! And they will definitely keep the kiddos entertained for a few hours.
Bird Feather Binoculars
12. I love a simple craft that is completely child-led. These Bird Finder Binoculars by Art Bar » – are great for kids to pick out their own colour combinations, wrap yarn and cut tape (two skills that take lots of concentration and make little ones feel very proud), and glue their two parts together for an instant toy!
Sponge Sailboats
13. Ahoy there, matey! Temperatures sure are rising so if you are in a search of a fun activity to cool with this sponge sailboat craft is just a thing to do with the kids. These Sponge Sailboats by Easy Peasy and Fun » are not only fun to make, they are also extremely fun to play with. Your kids will be able to play with them in a tub of water or have a sailboat race in the nearby stream.
Paper Plate Butterfly
14. I love simple crafts that can be set up and made using only a few materials and done in those little snippets of time that busy families have. Gather your materials. For these Paper Plate Butterfly by No Time For Flashcards » – you will need a paper plate, pipe cleaner, glue, scissors, and some fun collage material like gems, buttons, sequins…. whatever you have on hand.
Paper Bag Monsters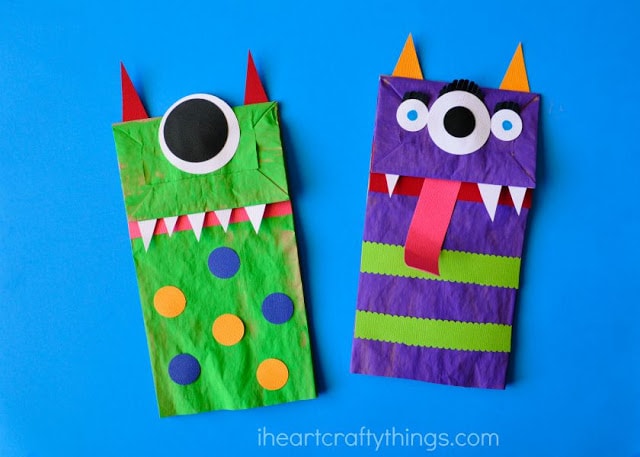 15. I love, love when we do a craft that is not only open-ended but is one the entire family can join in on. These Paper Bag Monsters by I Heart Crafty Things » are such a joy to make, you can sit around the table all together as a family and each create your own unique monster.
Kids Kaleidoscope
16. This Kids Kaleidoscope by Darcy and Brian » – is fun for the family to work on together, spend quality time together and bond. This one definitely requires adult supervision and assistance if you're making it with younger children.
Giant Paper Ice Lollies
17. I love colored card stock and bright paper crafts. Paper is so un-messy and cuttable. You can paint on it or fold it or cut it or glue it. These Giant Paper Ice Lollies by Tiny Rotten Peanuts » – are one of the easiest crafts ever.
Handprint Dragonflies
18. A favourite summertime activity for the little ones is going on nature walks. Kids like to look for things that they've never seen before and learn about different types of insects, birds, and plants. These Handprint Dragonfly by Raising Little Superheroes » – would make an adorable keepsake from your children's handprints.
Seashell Peacock
19. These fun little Seashell Peacock by Crafty Morning » are genius! If you take your kiddos to the beach, make sure to look for these types of shells so they can create their own birds.
Ribbon Wands
20. If you're looking for a simple, affordable, FUN summer craft that your kids will love- these Ribbon Wands by Somewhat Simple »– are for you! The wands are super simple to make and the perfect opportunity for getting outside with some garden play!

Shop the project
Shop online to order everything you need to complete this project.