16 Creative Clay Gift Ideas
Do you know how many ways you can use clay to make something special? We do, and here's 16 different things you could make for an extra special gift!
16 Creative Clay Gift Ideas
Offer up some encouragement with a beautiful quote on some clay bunting that they can hang in their home!
How to Make Clay Bunting Quotes
Give them something pretty that will remind them of you every time they use it; we love the simple Moroccan style patterns on these coasters, but you could go geometric or even use a bit of calligraphy!
If you want to make something small but special, have a go at making clay beads – they're not just for kids! Choose trendy patterns and colours to decorate for a chic finish.
How to Make Clay Bead Keyrings
For someone who loves relaxing and lighting a few candles, make some beautiful holders and give with a nice pack of scented tealights.
How to Make Clay Tealight Holders
Instead of giving them a bunch of flowers, why not make a beautiful jewellery dish, and personalise with their name?
How to Make Clay Flower Ring Dishes
These clay heart bowls are a great idea for a Valentine's or anniversary present – stamp a special date or nickname on the inside for something they'll treasure.
How to Make Air Dry Clay Heart Bowls
Don't forget about the kids! They can make some fun fruit magnets, including a trendy pineapple, in no time at all!
How to Make Fruit Magnets with Clay
Share the love with some simple clay hearts! Use twine to hang or turn into some cute bunting.
How to Make Air Dry Clay Hearts
If you're looking to make something for a guy, a tablet or phone stand is great idea. Use their favourite colours to decorate and add a name or funny phrase to make them smile!
How to Make a Personalised Tablet Stand
Make some sweet little napkin decorations for someone who loves hosting dinner parties and making tablescapes!
How to Make a Clay Napkin Decoration
If you don't want to make the gift itself, why not jazz up your wrapping with an extra special tag?
How to Make Personalised Clay Gift Tags
Add an extra flourish to something you can buy ready made – we love the idea of upcycling a plain vase with flowers or other shapes!
How to Make a Clay Flower Vase
Get a trendy succulent or cactus and make a handmade home to give it in!
DIY Clay Plant Pot by That's So Gemma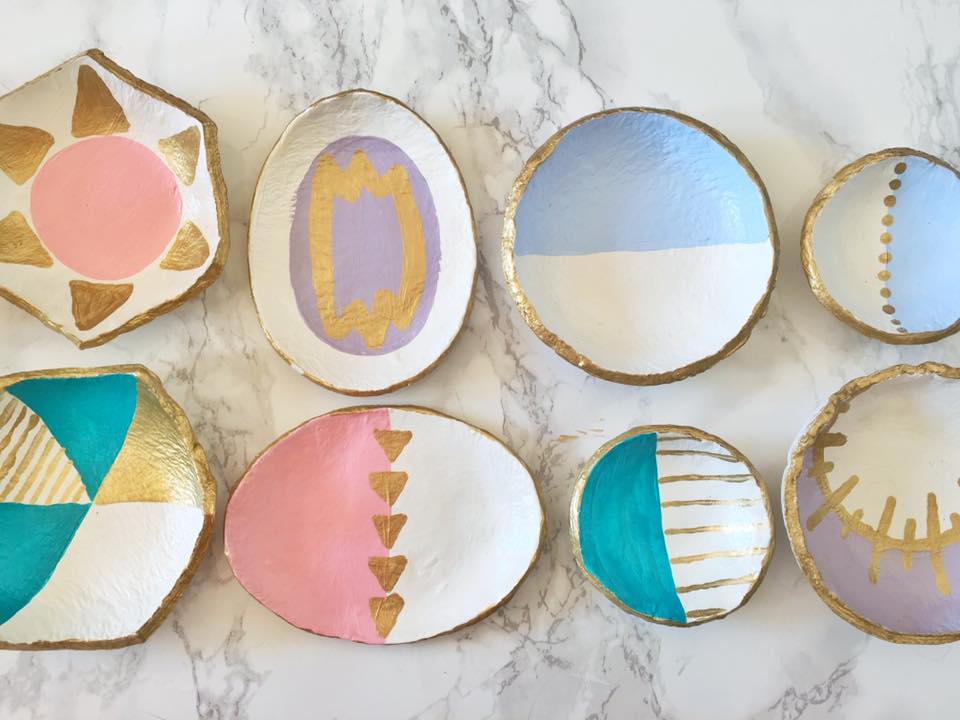 A touch of gold and pretty pastels mixed with bold brights make these dishes bang on-trend, and a great gift for any jewellery lover!
Find inspiration from nature with these beautiful leaf-impression 'catch all' dishes – perfect for keys, candles and jewellery.
DIY Leaf Catchall by Design Sponge
Go simple for a chic finish on a clay dish – use stamps in a block colour with a punchy phrase.